A fun introduction into gymnastics learning the basic skills on all four pieces beam bars floor and vault. The classes are mixed in age and ability but we do group them accordingly in the gym. Mixed ages we find makes it easier for those with more than one child wishing to participate.
Classes 4pm ages school age 4-6 Classes 5pm mixed Classes 6pm 9 upwards
MONDAY 4-4.55pm, 5-5.55pm, 6-6.55pm
TUESDAY 4-4.55pm, 5-5.55pm, 6-6.55pm
WEDNESDAY 4-4.55pm, 5-5.55pm, 6-6.55pm
THURSDAY 4-4.55pm, 5-5.55pm, 6-6.55pm
FRIDAY 4-4.55pm, 5-5.55pm, 6-6.55pm
SATURDAYS 9-9.55am, 10-10.55am and 11-11.55pm
£30 a month paid a month in advace
By invitation or trial only
Main Squad is coached by Head Coach Frances a Level 3 Womens Artistic coach. This squad trains 10 hours a week training hard for competitions with IGA. It involves determination, conditioning, routines, strength and skills.
Intermediate Sqaud is coached by Anna-Belle a Level 2 General Gymnastics coach and Lara a level 2 general gymnastics coach. The gymnasts traing 6 hours a week, the gymnasts will be working hard with conditioning, routine, strength and skills.
Mini squad is coached by Sarah a level 2 general gymnastics coach. The gymnasts train 2 hours a week.
Floor and Vault squad train 6 hours a week preparing routines for IGA levels on just the 2 pieces. This is coached by Anna.-Belle a level 2 coach.
Boys squad train 6 hours a week preparing to compete at IGA levels on floor,high bar,vault and p bars.
For information about the squads please speak to Claire or Frances.
For toddlers upto pre school age. These are coached but parent/guardian participation is required
Monday 10:00-11:00
Tuesday 9:30-10:30
Wednesday 9:30-10:30
Thursday 10:00-11:00
Friday 9:30-10:30
Saturday 12:00-13:00
£30 a month paid a month in advance
Jumpnastics!
Come and join in the fun and friendly coach lead gymnastics trampolining classes!
Trampolining is excellent for whole body strenth and mental well being!
Trampolining will be with a coach that will start off with the basics to learning moves more complex using the correct steps to achieve that. Following the Uk gymnastics levels.
Recreational Trampolining: £30 a month
Tuesday 16:00-16:55
Thursday 16:00-17:55
Friday 16:00-16:55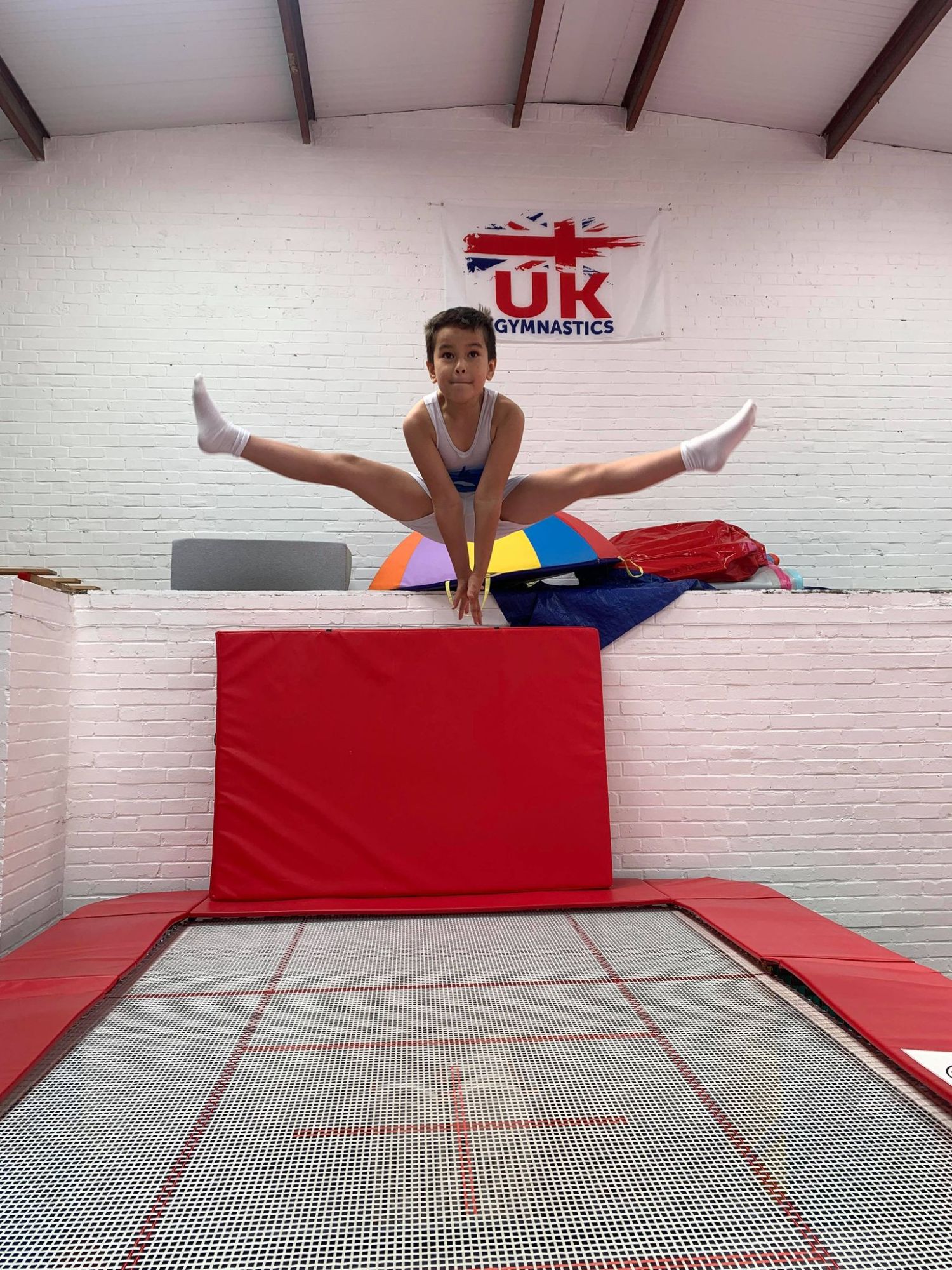 DMT is a combination of gymnastics trampolining and acro
The DMT is like two mini tramps that have been joined in the middle. The first section of the apparatus is set at a slight angle and called the mount. From the mount, skills are performed onto the second section of the apparatus. This second section is called the spotter and is where skills can be performed back onto the tramp bed or as a dismount onto the landing mat.
Double Mini Trampoline can be likened to a combination of Athletics, Trampolining and Gymnastics. Competitors sprint down a carpeted track and hurdle onto the apparatus before performing double and triple somersaults with the same precision required on a trampoline. The only difference is that gymnasts have to land on a trampoline bed less than a quarter the size of a trampoline, before performing a dismount on to a landing mat.
These classes are with coach Frances who is a qualified DMT coach and also competed herself in this discipline internationally and has numerous titles including English and League Champion.
Recreational DMT: £30 a month per class
Tuesday 16:00-16:55
Thursday 16:00-16:55
Cheerleading with coach Amy
A combination of gymnastics acrobatics and dance throw in some pompoms and its a class packed with fun.
Fun for all ages and abilities.
Wednesday
5-5.55 6-6.55
£30 a month
A fun safe introduction to the skill of aerial hoop. Our hoops are bought nice and low so everyone is able to achieve and enjoy the combination of gym dance and performance skills.
Tuesday 17\;00-17:55
£32 a month
With coach Mathilde
LITTLE WARRIORS MINI PARKOUR
Bring your little ninja along and let them loose on our mini ninja warrior course where they can climb jump spin swing and run in a safe enviroment. Fully supervised by one of our coaches so you can sit and relax and have a coffee. For ages 5-10
Thursday 18:00-18:55
£30 a month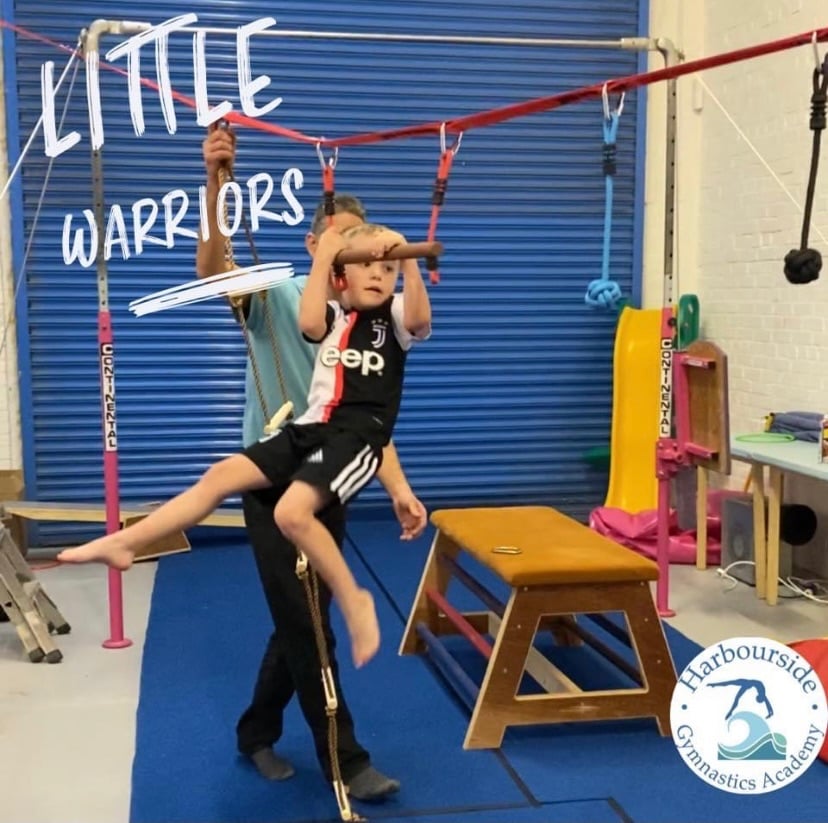 HOME EDUCATION GYMNASTICS
A fully coached gymnastic class durring weekday day time for children who are home educated.
The class follows the same syllbus as our recreational classes focusing on fun and fitness using all aspects of the gym.
Parents are welcome to drop and go or sit upstairs in the cafe and watch from the gallery.
Tuesday
9:30-10:30am
£30 month
CLOSED NOW FOR THE SUMMER BACK IN SEPTERMBER
A fun and very interactive class for your little ones to dance along to some of their favourites like Disney and Sticky kids. Each week will be a different theme there are lots of musical instruments to pick from . We also set out a little course to parade around. This class is with Katie who has a fantastic professional background in dance,singing and performing.
Thursday 11:00-12:00
Pay as you go at the door no booking required
£5 Gives entry to one child and one adult extra adults and children will require another ticket
TIDAL DANCE COMMERCIAL STREET
Fun packed commercial hiphop street style dance classes
Suitable for all abilities
Fully choreographed dances
Lights Lazers Fog and Bubbles full on dance experience. Each dance will be taught over a 2-3 week period and the willbe filmed and edited and released as a full video with all the effects.
Ages 5-7 Saturday 9:00-10:00 Ages 8-12 Saturday 10:00-11:00 Price drop in £7 or pay monthly rolling fees works out at £6.24
These are great for anyone who wants to practice some skills,keep fit or just have some fun. It is for ages 12 upto adult so great for parent and child to attend together. You have full use of the gym apart from the trampoline due to health and safety. These are uncoached sessions but there is always a coach and staff in the gym to make sure equipment is used correctly and offer advice if needed.
Tuesday 19:00-20:00
Thursday 19:00-20:00
Pay as you go at the door £5
Sprung floor
Beams
Vault
Bars
Fast track
Air tracks and rolls